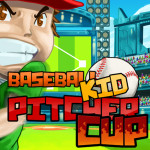 Baseball Kid Pitcher Cup is an exciting game for baseball fans of all ages. You can play on their desktop or mobile device. In this game, you will play as a young baseball player and have to practice your pitching skills by hitting the numbers on the screen as many times as your catcher tells you.
As you progress, there will be more numbers and faster speeds, requiring good reflexes and high concentration. Baseball Kid Pitcher Cup has many different levels, from easy to difficult, for you to explore and try out. Try to achieve the highest score to become the winner!
After 5 years since its release, Baseball Kid Pitcher Cup is widely welcomed and popular among young people and children in the United States and some East Asian countries, such as Japan. Challenge yourself to become the best pitcher and share it with your friends.