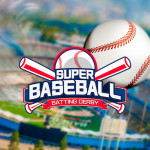 In Super Baseball, you'll play as a batter and your goal is to hit the ball as far as possible. With intuitive controls and realistic physics, you'll feel like you're really on the field, swinging for the fences. But that's not all - this game also offers a variety of different game modes to choose from, including tournament mode, home run derby mode, and more.
Hit the ball thrown by the pitcher at an excellent time. If you strike the sweet spot, it will be a thrilling homerun! The difficult levels of Super Baseball will make the ball gradually tougher to hit.
How To Play
How to play:
Aim the drop point of the ball.

Click your mouse to swing the bat.
Super Baseball is perfect for all ages, whether you're a seasoned baseball fan or a newcomer to the sport. This is a game that you won't want to miss. You can try some other exciting baseball games: Baseball Hit, Baseball Boy, Gully Baseball, etc…