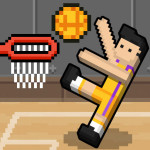 Welcome to today's most beloved sports game, Basket Random. This will be the perfect choice for those who love basketball. In this game, you will participate in a basketball match with other players in two modes: 1 player and 2 players.
In single-player mode, you will compete with the robot in the game.
With 2-player mode, you can absolutely invite your friends to compete in exciting and dramatic basketball matches.
Regardless of the mode, your goal is to score as many goals as possible into the opponent's net. How many matches will you win? Join the game and prove your abilities to them. I hope you have fun!
If you want to participate in more sports games, you can try some games like Basketball Legends, Doodle Cricket,... Join now and don't miss any interesting games on our website. And don't forget to leave positive reviews about the game to let us know!
How To Play
Player 1: Use the W key to control
Player 2: Use the up arrow key to control