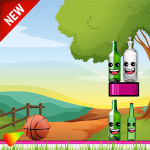 Bottle Shooting Game is a basketball sports game that challenges your basketball skills by breaking all the bottles arranged in different positions. In this game, your goal is to use the basketball to throw and knock over all the bottles placed in many different positions. As soon as you knock over all the bottles, the system will move you to the next level. The game is set up with many different levels, and the difficulty of the game will increase with each stage. To knock over the bottles, you must aim the angle and throw direction accurately to quickly break all the bottles in one throw. You only have three lives in each level. If you throw all three turns and still haven't knocked down all the bottles in the game, you will lose. So try to use your top basketball skills and knock down all the bottles in one shot. Good luck
In addition, if you love sports games, you can participate in some interesting and exciting sports games such as Soccer Physics 2, Five Hoops,... Join today and don't miss out.
How To Play
Hold down and drag the left mouse button to make accurate basketball shots at the target.