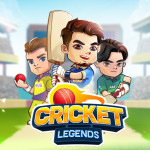 In the entertaining cricket sports game Cricket Legends, you take on the role of a famous cricketer and execute a series of brutal blows to help your team win. As a professional smasher who can stop any ball your opponent tosses, you will compete in this game. Utilize your unique abilities to craft breathtaking shots by determining and anticipating the ball's path, then hitting the ball as far as you can while preventing your opponent from advancing. Your grasp of the ball. You will then give your team points. Wait for the white mark to appear on the ground while keeping an eye on your adversary. The direction the ball will go is indicated by this indicator. Draw a line to hit the ball and act quickly. A low score will result from drawing too slowly or too quickly. Wait for the ideal opportunity to make excellent shots and give your team a stunning victory. Utilize your unique talents to make sure every hit is a success.
Now enter the game and demonstrate your skill in opposition. Good fortune
You can also look at other sports games on our website if you enjoy this one. A ton of fun and interesting games are waiting for you to join; don't miss them.
How To Play
To move left, click and hold. Aim and swing with a drag of the mouse.