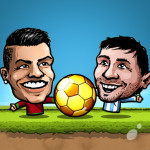 Dream Head Soccer is an extremely interesting head football game where you can play as world football superstars to compete in matches. To start a soccer match, you must choose the representative country to participate in the competition. Each country will send a world soccer superstar to participate in a match. You can absolutely choose countries with your favorite football superstars to participate in matches. After selecting the country, both teams will participate in an intense 1-on-1 soccer match around the soccer field, where there will be a large number of fans cheering along with very exciting cheers. After the signal to start the match, both will perform dribbling skills to put the ball into the opponent's goal. The match will take place within a specified period of time. Whoever scores more goals will win. Prove to us your sporting talent. I hope you had fun.
There are also many other interesting and exciting sports games on our website waiting for you to discover them, such as Basketball Legends, Football Brawl,... Join now and don't miss out.
How To Play
Use the arrow keys on the keyboard to control the soccer player in the game.