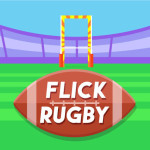 Are you ready to practice your rugby skills in Flick Rugby? This will be the perfect choice for those who love sports, especially rugby.
In this game, you will be able to participate in practicing advanced rugby throwing skills to prepare for official matches. In front of you on the screen will appear a practice field. A goal will be a certain distance from you, and your goal is to throw as many balls to the goal as possible. You will have 3 lives, corresponding to 3 unsuccessful throws. If it exceeds three times, the game will end, and you will have to start the game again. For each successful throw, you will score 1 point. However, the score will be doubled when you throw the ball into the center of the target. To get the highest score, aim accurately and try to throw the ball in the middle of the target. How many points will you score in this game? Join now, and don't hesitate to leave the scores you've scored in the comments! I Hope you have fun!
How To Play
If playing on a computer, use a mouse.
If playing on a mobile phone, touch the screen.
Related games: