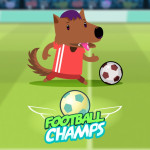 Are you ready to become an excellent soccer team player with a game called Football Champs? With this game, you will become a real soccer player. You will participate in a football match with your opponent, do your best, and use your dribbling skills to score a goal into the opponent's net. Your goal is to aim and shoot the ball fast to score the goal into the opponent's goal. Each turn will be limited to 30 seconds. In those 30 seconds, you must make a successful shot. If after 30 seconds you still haven't hit the ball into the net, you lose, and the game is over. So aim and make accurate shots to bring victory to your team. Join the game now and become the best scorer.
In addition, if you want to participate in many games with different sports, you can try: Hoops Champ 3D, Just Golf,... And there are many other interesting games on our website. waiting for you to discover. Join now and don't miss it.
How To Play
Use your left mouse button to help the player kick the ball into the opposing team's goal. I hope you achieve a lot.