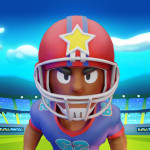 Football Kickoff is the most attractive rugby sports game, where you will play the role of a rugby player competing in the world's biggest matches. In this game, you will participate in a baseball match. Your goal in this game is to throw the rugby balls over the goalposts to score a goal. With each successful throw, you will score a certain number of points. However, this is very difficult when you have to throw the ball at many different angles. This will be a big challenge for you. To throw successfully, calculate the distance, wind direction, and your position on the field to make successful throws across the goal. You will have five failed throws. If you exceed five unsuccessful throws, the game will end and you will lose the match. So be careful with your throws. Good luck
Now put on your gloves and helmet, start the match, and become the best rugby player.
How To Play
Hold down and drag the left mouse button to make precise throws over the goalpost.