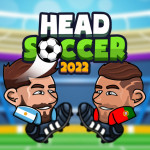 Head Soccer 2022 is a fun soccer game for two players where you can transform into famous players and participate in matches.
The game has two player modes: one player and two players. You can consider and choose for yourself a suitable game mode as follows:
1-player mode: You will compete with a robot. Both will try to score a goal into the other's net before time runs out. After time runs out, whoever scores more goals will win. This mode is suitable for those who are new to the game and for practice.
2-player mode: You can challenge and compete with a friend. The way to play is similar to one-player mode.
With fast-paced gameplay, detailed characters, and multiple game modes, it gives players a fun and engaging experience regardless of their play style. Don't hesitate to join this exciting sports game today. I hope you had fun.
How To Play
Player 1: Use the arrow keys to move.
Press the Z/X key to shoot the ball.
Player 2: Use WASD keys to move
Press the N or M key to shoot the ball.
Related games: