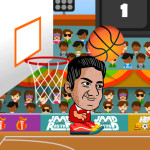 Head Sport Basketball is a fun basketball sports game for two players with stunning graphics and vivid sounds, giving you a great experience.
The game has two player modes: one player and two players. You can choose one of two modes to participate in the competition. To start the match, you will first choose the character, outfit, and weather.
In one-player mode, you will participate in a basketball match with your opponent, who is a robot. You must defeat the robot and score many goals in the opponent's half before time runs out. After time runs out, the person with the higher score will win.
2-player mode: With this mode, you can invite one more friend to compete on the same computer. Gameplay and objectives are similar to those in 1-player mode.
Join this fun basketball game now and compete with famous players, proving your abilities through matches. The game is very competitive so stay focused and be careful not to let the opponent have a chance to score a goal in your half. Good luck
How To Play
Player 1:
Use the arrow keys to move.
Press the P key to jump
Player 2:
Use WASD keys to move
Press SPACEBAR to jump.
Related games: