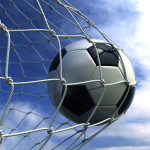 Hyper Goalkeeper Party is a fun soccer game in which you will exercise a variety of your soccer skills to score as many goals as possible. In a match, there will be four people divided into two teams. Each person will defend one goal. Members of the same team will be distinguished from each other through their uniform colors. Two people with the same shirt color will be on the same team. You will have to control two offensive and defensive players at the same time to score a goal into the opponent's net before the timeout zone. Move your goalkeeper according to the ball, avoid allowing opponents to score, and kick the ball back at a specific angle to gain a goal from the opposing team. Keep an eye on the timer to score as many goals as possible to win the game. A certain time is specified in a competition match. After time runs out, the team that scores more goals will win. How many matches will your team win? Join now and prove your team's soccer skills. I Hope you have fun!
There are also many other interesting soccer games that you can try, such as Head To Head Soccer, Soccer Physics 2,... Join today and become the best players.
How To Play
You just need to move the mouse to control two players at the same time, both attacking and defending the goal.