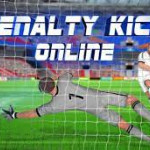 Penalty Kick Online is the most exciting and thrilling soccer game ever, in which you compete against many different opponents in a penalty kick competition. Your team has just played with the opponent's team with a draw, and each team will have to nominate the best player to represent the team to participate in the penalty shootout. Each player tries in turn to take a penalty kick into the opponent's net. There are 15 opportunities for you to score as many goals as possible. This free-kick game challenges you to shoot the ball past the opponent's goalkeeper. Set the perfect height and angle before setting your players in motion. The game has two player modes: play with friends and play with others. You can consider and choose a suitable playing mode for yourself. I recommend that if you are new to this game, you should choose the computer mode to get used to and practice first. If you want to compete with your friends, you can choose 2-player mode.
Don't hesitate to join the dramatic ice game with a series of nerve-wracking penalty shootouts. I Hope you have fun!
How To Play
Use the mouse to operate on the screen and take successful penalty kicks.