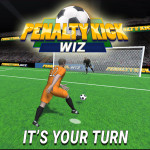 Penalty Kick Wiz is an extremely interesting soccer game in which you will participate in a penalty shootout to find the winning team. First, you will choose the country you will represent to participate in the competition. After selecting, the system will automatically select your opposing team. Both will enter a tense soccer match. Each team will have five shots. For each successful kick in the left corner of the screen, a green tick will appear. Conversely, if the kick fails, a red X will appear on the board. After five shots, the team that scores more goals will win. In the event that after five kicks the results are tied, both sides will play one more round to decide the winner. Be wise in choosing a strong team and the best player to compete with other teams. Use your excellent soccer skills to defeat other teams. Good luck
If you find this game good, don't forget to share it with your friends!
How To Play
Use the mouse to control the players to successfully kick and catch the ball.