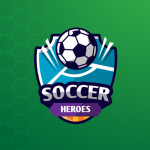 Soccer Heroes is an extremely interesting soccer game with fierce competition in each round, where you will compete with many strong opponents.
In this game, you will participate in matches from the qualifying rounds to the final round to find the winner and win the championship trophy to become a legend in the soccer world. First, choose a representative team to participate in the competition. Then a competition field will appear on the screen. After the starting signal, both people will continuously take the ball and try to put it into the opponent's net before time runs out. The match will take place within the allowed time period. To win, you must quickly strategize and put the ball into the net in the opponent's court before time runs out. After the competition ends, the winner will be the one with the most goals and will win a ticket to the next round, and vice versa. Try to beat your opponents and become a soccer legend. Good luck
If you love soccer games, then you can join our collection of the latest sports games. Many interesting and exciting games are waiting for you.
How To Play
Use the mouse to control players on the field. Try to score as many goals as possible.
Related games: