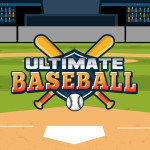 Ultimate Baseball is an addictive game dedicated to baseball enthusiasts. You can play this game for free on various platforms without any downloads or installations. In this game, you'll play as a baseball player and try to hit the ball as far as you can. You can adjust the angle and power of your swing by tapping the screen at the right time. You'll have 10 swings, and your goal is to score the highest points possible. If you hit the ball out of the park, you'll score a home run and earn extra points.
Ultimate Baseball has multiple game modes to keep you engaged, including classic mode, training mode, and tournament mode. You can also customize your character and equipment to create a unique gameplay experience. Collecting baseball cards is another way to improve your skills and boost your score. With easy-to-use controls and a user-friendly interface, Ultimate Baseball is a game that anyone can enjoy, whether you're a baseball fanatic or a beginner.
How To Play
Aim drop point of the ball.

Use your mouse and tap to choose one of three modes of hitting the ball: Swing high, swing middle, swing low.
If you are keen on baseball, you can't miss Super Baseball, Baseball Hit, etc.