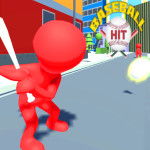 BaseBall Hit Game is a free online sports game that gives you the chance to participate in American baseball, one of the most popular sports in this country. You will play the hitter, and must try to hit the ball thrown by the opponent. You can choose one of two game modes: Bottom of the Ninth or Arcade.
In Bottom of the Ninth mode, you will have to hit the ball accurately and powerfully, so that the ball goes far and is not caught by the opponent. On the contrary, In Arcade mode, you will be throwing 10 balls, and you must hit the targets in the field. Keep scoring home runs and don't give the defending team a chance to defend their advantage!
In addition to its engaging gameplay, BaseBall Hit Game also boasts stunning graphics and sound effects that will immerse you in the action. From the crack of the bat to the roar of the crowd, every aspect of the game is designed to make you feel like you're really at the ballpark.
With regular updates and new features being added all the time, BaseBall Hit Game is a game that you'll never get tired of. So what are you waiting for? Try the BaseBall Hit Game today and experience the ultimate baseball experience!
How To Play
Aim for the perfect angle.

Click the mouse to hit the ball.
If you are a big fan of baseball, you can't miss Extreme Baseball.