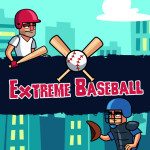 With Extreme Baseball, you will get the ultimate baseball experience. As a batter, you must use your skills and strategy to hit the ball out of the park and score points. With stunning graphics and realistic sound effects, you'll feel like you're really on the field!
Extreme Baseball also offers a range of challenging levels that will put your abilities to the test. You can choose the appropriate level or play from easy to difficult level.
How To Play
Take aim and release your baseball to take down your opponents.

Strategically bounce the ball off walls to knock out multiple enemies at once.

Boost your score by collecting baseball cards.
So, whether you're a die-hard baseball fan or just looking for a fun and thrilling sports game, Extreme Baseball is the perfect choice. You can try some hot games like: Baseball Beans, Gully Baseball, Homer City 3D, etc.