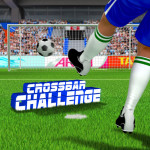 Crossbar Challenge is a game of shooting the ball onto the top crossbar of a goal to score the highest score, beating other opponents. In this game, you will compete as the best player on the team. You will participate in a match with 15 shots. Your goal in each shot is to aim at the crossbar and hit the ball with the highest score. Different points will be marked on the crossbar, and your goal is to score as many points as possible after 15 kicks. How many points will you shoot and score in this game? Join now and prove your top-kicking skills. I Hope you have fun!
In addition, you can participate in a number of sports games in many different disciplines, such as Doodle Cricket, Cool Archer,... Join today and don't miss out.
How To Play
Use the mouse to help players make accurate shots against the crossbar.