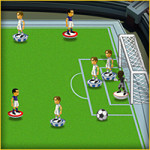 Flicking Soccer is a multiplayer soccer game where you will represent your country in direct competition with strong teams. First, you will choose a representative country to participate in the competition. After selecting a country, a competition field will appear on the screen. Each team will have eight players competing for 120 seconds. After the start signal, both will control their team's players to pass the ball to each other and try to score a goal on the opponent's goal before time runs out. After time runs out, the team that scores more goals will win.
To quickly win against your opponent, you must have a plan and move strategies to quickly score goals into the opponent's net, preventing the opponent's ability to score.
How far will your team go in this tournament? Join now and show us your military talent and team strength. Good luck
In addition, you can participate in many other exciting sports games, such as Basket Random, Rugby Rush,... Join now and don't miss out.
How To Play
Use the mouse to control the players' movement during the match.