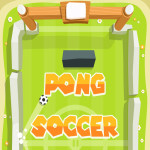 Pong Soccer is a fun football game with a very simple gameplay suitable for all ages, in which you will play soccer with the most special gameplay ever. The game will have two modes: normal mode and hard mode. You can choose one of two modes to compete in football matches.
If you are new and playing for the first time, then I recommend you choose normal mode to start. When you are familiar with the game, you can choose the second mode to improve your skills.
In addition, you can invite your friends to join this exciting soccer game. Don't hesitate to join the game and become the best player in the tournament. Good luck
How To Play
Use the left and right arrow keys to control the wooden stick to move to kick the ball and stop the ball from flying into your goal.