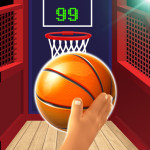 Shot Shot is a very interesting basketball sports game in which you will play basketball with many different levels along with an automatic basketball machine. In this game you will participate in playing basketball on the automatic basketball machine. In each level you will be assigned a specific amount of time. Your goal in each level is to successfully throw the ball into the basket within the allotted time and complete each level in the game. In addition to the time limit, you are also limited to the number of successful balls. If the time runs out and you do not successfully throw the specified number of balls, you lose and the game starts again. So aim precisely in the direction of the throw to successfully put the ball into the basket. For each successful throw you will get 3 points. How many points will you score and how many levels will you pass in this game. Join the game now and show us your basketball skills.
If you find it interesting, don't forget to share this game with your close friends! I Hope you have an interesting experience when participating in this game.
How To Play
Hold and drag the left mouse button to make successful throws into the basket.