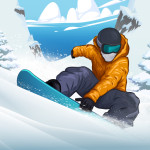 Are you ready to conquer the snowy slopes and become the owner of the mountain in Snowboard Kings 2022? This is a skill-based skiing game. Where you can use all your skiing skills to conquer giant snowy mountains. Find your way through the mountains. Go over steep slopes and explore the mountains and surrounding landscape, avoiding trees and rocks. Explore every slope and find the shortest route down the hill. Pay attention to your surroundings and speed up during an avalanche. Now jump on the board, wear protective gear, and start conquering the snowy mountains. Become an expert in the field of skiing. Join now and enjoy this exciting winter. I Hope you have fun!
And there are many other attractive and interesting winter sports games waiting for you to explore, such as Winter Soccer, Olimpian Mahjong,... Join now and welcome a vibrant winter.
How To Play
Use the left and right arrow keys to move.
Press the spacebar to boost