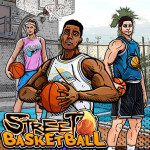 Street Basketball is a fast-paced street basketball sports game that helps you practice top basketball skills to participate in big matches. First, choose a player to start practicing basketball skills. You have one minute and 25 shots to get as many balls into the basket as possible! For each striped ball, you will get 2 points. Focus on these special balls to get more points! Use a variety of movements and precise aiming techniques to successfully put the ball in the basket. Adjust your timing well to score as many points as possible. Good luck
Now get ready to practice to become a basketball legend. In addition, you can participate in some other professional basketball games, such as Basketball Stars, Shot Shot,... Join now and don't miss out.
How To Play
Use the mouse to control the ball's throw.