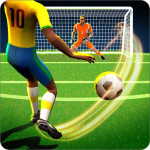 Football Storm Strike is an extremely attractive top football game in which you must try to score as many goals into the opponent's net as possible to win.
The game will have four game modes for you to choose from: practice, tournament, two players, and playing with a friend. You can choose between four modes. With each different mode, you can participate as a striker or goalkeeper.
Tournament mode: the ball can be in any part of the field and you will not be able to see the goal so you have to play randomly. Try to score as many points in a limited time.
Practice mode: where you just try to score goals and kick the ball on the go. While shooting, you need to determine the trajectory of the ball and rotate it so that you can get past the goalkeeper.
Two-player mode: invite a friend; the match will continue with up to five goals scored. Whoever scores first will win.
Play with a friend: You can compare your soccer skills with those of your friends. Prove you are a winner.
Now start practicing your soccer skills and prove yourself as a soccer legend today. I Hope you have fun!
How To Play
Use the mouse and interact on the screen
Related games: