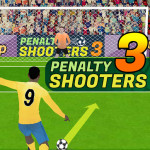 Penalty Shooters 3 is a thrilling soccer game that lets you experience the intense excitement of penalty kicks as a free kicker and goalkeeper.
Get ready to become an excellent player by taking a series of beautiful penalty kicks. You will participate in a soccer match by taking penalty kicks to decide the winning team. You will participate in the competition as both a free-kick player and a goalkeeper. You will take five shots and catch the ball. Kicks and catches will alternate. Your goal is to successfully put the ball into the opponent's goal while also blocking balls released by the opponent. Become an excellent player and bring victory to your team today.
How To Play
Use the mouse and interact in the game.
Related games: