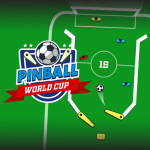 Pinball World Cup is a football game with a very different gameplay in which you will use the paddles to put the ball into a net with many fine branches.
This is a fun aiming game in which you must pay attention and control the side blinds in time to hit the ball and prevent it from falling through the center hole. For each level, the number of balls that need to be successfully put into the net within a given time period will be specified. If time runs out and you still haven't scored enough goals, you will fail that level. But if you complete the number of balls into the net before the time runs out, you will be moved to the next level. The game is set up with many different levels, and the difficulty will increase with each stage. How many levels will you pass with this exciting soccer game? Join now and discover your limits right away!
If you love games, you can join our collection of the best and latest soccer games on our website. Many interesting and exciting games are waiting for you to participate.
How To Play
Use the left and right arrow keys or the A and D keys to control the two paddles to put the ball into the goal.
Related games: