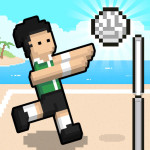 Welcome to the fun one- or two-player sports game based on physics in Volley Random. You will be playing volleyball with fun ragdoll physics. The game has two game modes: play against the computer and play with friends on the same computer. Each mode has its own fun, so try them all. Create beautiful and decisive smashes to win points against your opponents. The team that reaches five points first will win. Lead your team to victory in this exciting volleyball tournament. Try to lead your two-person soccer team to victory over your opponents. Prove your volleyball team is the best team throughout the entire season.
In addition, you can participate in some other interesting and exciting sports games, such as Basket Random, Basketball Legends,...
How To Play
Player 1: Use the W key to jump.
Player 2: Use the up arrow key to jump.