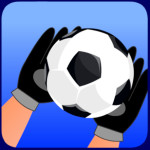 Penalty Kick Sport Game is an exciting penalty kick game in which players must take penalty kicks one after another within the specified range.
This is a soccer game that puts you in the role of a professional free kick player, beating every goalkeeper. In the game, the player will control the ball on a decisive path to the goal. Observe the goalkeeper's movement and take accurate shots at the goal. Try to score as many goals as possible. level, and the difficulty of the game will get faster and faster. This requires you to react quickly and seize the opportunity to score a goal into the opponent's net. However, you need to be careful not to let the goalkeeper catch three balls or shoot the ball out of the goal, or you will lose this game. Now join the game and practice accurate shots to become a free-kick legend. I hope you have fun!
How To Play
Use the mouse to take penalty kicks into the opponent's goal.
Related games: