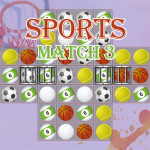 Sports Match 3 Deluxe is a Match 3 puzzle game with a fun sports theme where you will match three or more identical balls and achieve the goal of each level.
Your challenge in this game is to match three balls of the same shape and make them disappear on the screen, completing each level in the game. Each level will specify the number of balls you need to collect. You must collect the specified number of balls to complete each level. However, each level will also specify the maximum number of moves. If you run out of moves and you still haven't collected the required number of balls, You will lose, and the game will end. So observe carefully, calculate your moves to collect all the balls, and complete the goal at each level. How many levels will you get through in this fun puzzle game? Join now and prove your abilities to us. Good luck!
How To Play
Use the mouse to move the balls to form a row or column of three identical balls. Collect balls and complete the goal of each level.
Related games: