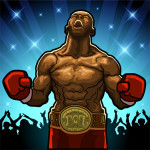 Boxing Stars is an extremely interesting 2-player boxing sports game with extremely strong competition and damage to help you become a boxing star. Put on your boxing gloves and defeat other boxers to become a true boxing legend. Use knockout punches to hurt your opponent while blocking their attacks and use your devastating combos to knock them out decisively. Defeat all your opponents in battle and collect all the loot. Don't hesitate to join the game and prove you are the strongest boxer in the tournament.
If you find this game interesting, don't forget to share it with your friends, and you can also participate in some other exciting games such as Basketball Legends, Dream Head Soccer,... Join today
How To Play
Use the left and right arrow keys to move left and right.
Press A key to knockdown punch.
Press the D key to knockback punch.
Press S to block attacks.